Current Wish List:
Support for our New Shelter!

Our new building is taking shape, and fundraising continues!
We have done a lot of improvising over the years - patching, repurposing and tacking on as best we could, but the time came to build - and we are!
A brand new building on our current land, incorporating the newest ideas and best practices in animal sheltering, will allow our staff and volunteers to do an even better job. This will be a place of greater comfort and help for the animals. It will be a place where we can expand our humane education programs for children. And it will be a new source of pride for the entire community.
We've done our homework. This has been "in the works" for several years and now we are ready. Please help us make the animals' stay and visitors' experience more positive. Help support the new shelter so that we can do even better for them.
We would love to talk with you about our needs! If you are interested in our shelter capital campaign, please contact us to discuss the many ways you can leave a legacy for the animals for years to come.
Call Vicki at (320) 252-1325 or email tchs@cloudnet.com
Call Tauna at 320 252-0896 ext. 28 or email give@tricountyhumanesociety.org

Feliway for Cats

Available for purchase in our Re-Tail Shoppe

Adaptil for Dogs

Available for purchase in our Re-Tail Shoppe

Available for purchase in our Re-Tail Shoppe

Canned (Pate) Cat Food

A Note About Pet Food Donations:
We try to make sure that a meat protein source is the first ingredient in the food we feed to the shelter pets, and we avoid food with a lot of dye in it. Thank you for considering their digestive health when making a donation.

Rabbit/Guinea Pig Food

Available for purchase in our Re-Tail Shoppe

Timothy Hay

Available for purchase in our Re-Tail Shoppe

Toys for Animals

Can be gently used! Also available for purchase in our Re-Tail Shoppe
For The Shelter
Gift cards to local businesses for pet/office/shelter supplies
Laundry detergent
Hand soap
Hand sanitizer
Heating pads
Rubbing Alcohol
Clorox Wipes
For The Office
Color/White Copy Paper
Postage Stamps (forever and postcard)
Scotch Tape
For our Special Events:
Silent auction items, such as new or handmade items, event tickets (sports, museums, concerts, plays, movies, etc.), unique experiences
Bottles of wine for Wine, Kibbles, and Bids 
Plastic totes (medium & large)
Volunteers
Foster homes! Big need: Bottle baby kitten fosters, fosters willing to take puppies (with or without mom, but no bottle feeding)
Animal transporters
Daytime shelter animal care volunteers
Recycled Items for $$
Aluminum cans
Vehicles
Gently used pet supplies
Used ink cartridges (no large toners please!)
Visit the Get Involved—Donate section of our website for more!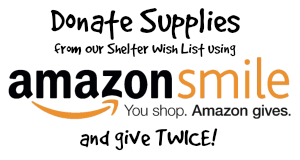 Ship Direct to TCHS Using Our Amazon.com Wish Lists!
If you are shopping our Wish Lists with Amazon.com (or just shopping for yourself), be sure to use Amazon Smile! It is the same Amazon you know and love, but they will donate 5% of your total purchases to TCHS when you select Tri-County Humane Society as your charity of choice! 
Helpful Hint: Don't forget the hyphen between Tri-County Humane Society when choosing our shelter!
It's Easy to Give with "Points" Programs
Sign up for More Rewards and designate Tri-County Humane Society as your School Rewards beneficiary during the school year!
Shop Coborn's, Cash Wise, and Marketplace Foods stores for their store brands (Food Club, Full Circle, Top Care, @ease, Paws, Tippy Toes, and more!) to earn points for TCHS!

You can help by donating Fresh Step's Paw Points! TCHS will redeem those points for free cat litter, cat beds, toys, and other items that help keep the kitties happy while they wait to be adopted!
Donate and Let Us Do the Shopping!
One-time monetary donation at tricountyhumanesociety.org/donate or sign up to be a Constant Companion monthly donor!
By mail at P.O. Box 701, St. Cloud, MN  56302
Donations of gift cards to local business for pet, office and shelter supplies can be dropped at the shelter or mailed to our PO Box.