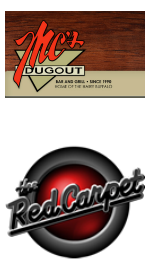 Thank you to everyone who braved the cold to attend the 3rd Annual Best Bloody Mary and Best Chili contest! Here's the press release for the event with all of the details - spoiler alert - we raised over 30% more this year!!
Tri-County Humane Society (TCHS) is proud to announce it raised $4,358 through its 3rd annual Best Bloody Mary/Best Chili event on Jan. 26 at the Red Carpet Event Center in downtown St. Cloud. Despite chilly temperatures, more than 200 people attended the event, which featured nine competitors showing off their favorite Bloody Mary and chili recipes. Attendees voted for their favorite samples and had the chance to win gift certificates – all while benefiting homeless animals.
Anton's, Crooked Pint Ale House, Erbert & Gerbert's Downtown, HR Pesty's, House of Pizza, Lily's Wings, Burgers, & Things, MC's Dugout, The Red Carpet, and Torch Sauce Co. competed at the event.
MC's Dugout won Best in Show chili, followed by Anton's coming in second place and House of Pizza coming in third place. The Red Carpet won Best in Show Bloody Mary, following by House of Pizza in second and Crooked Pint in third.
TCHS is grateful to its sponsors: Red Carpet Event Center, 99.9 More FM, Johnson and Brothers Liquor Co., Benton Trophy & Awards, and Kloster Commercial Resources. Also, many volunteers helped power the event.
New for 2019:
We dropped the "celebrity judges" portion of the voting process—the ticket holding voters take their jobs very seriously and want to know their vote counts! In 2019 the final vote tally from the voter ballots decided "Best in Show" Chili and "Best in Show" Bloody Mary!
We added space by opening the door that joins the Event Center with the Pub so we had more elbow room.
Gift Certificate Raffle! It's Central Minnesota, we all know what a meat raffle is - think of it as a meat raffle but instead of meat, you can win gift certificates from local bars and restaurants!