The "Re-Tail Shoppe"

Save money and lives at the same time when you shop in our retail store!  All proceeds benefit the animals. 
We strive to offer high quality pet supplies at great prices, such as:  
High quality food (Diamond,  Solid Gold, Canidae, Taste of the Wild)
Leashes, collars and training aides (Gentle Leaders, Weiss Walkie)
Fun toys for cats, dogs and small animals
Oxbow small animal food & hay
Food and water dishes
Pet carriers
Grooming supplies
Frontline Plus for dogs and cats
Treats for dogs and cats
We also have gently used items starting at just 50¢!!
Don't see it? We accommodate special orders.  If you don't see what you need, just ask!  To inquire about products on hand or to order a product not typically stocked in our store, call (320) 252-0896.
Open 7 days a week.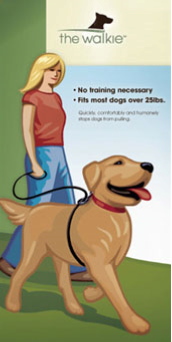 Weiss Walkie for "Pullers"
So you plan to take your dog to Companion Walk: Bark to the Future to help support a great cause – and have a radical good time!
But your dog's a little bit of a puller on his walks – what to do? Check out our Emily Weiss Walkies, available in our Re-Tail Shoppe! The leash is a humane and easy-to-use way to help ensure your pup doesn't pull too hard. Available in different sizes, the Emily Weiss Walkie wraps around the barrel of a dog's chest, so when he or she pulls too hard, it gently constricts – reminding the pup to take it easy. Emily Weiss Walkies retail for $19.99 plus tax at The Re-Tail Shoppe.
Don't have a pup but want to help TCHS?
Buy an Emily Weiss Walkie from our store and donate it to us! We trust these products so much we use them on our own dogs.