32nd Annual Santa Paws - Save the Date!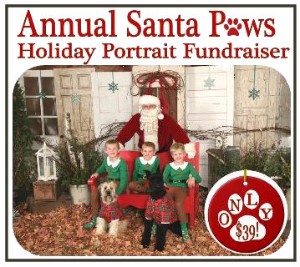 November 17, 18, 19, 2017
This fundraiser is always held the weekend before Thanksgiving. 
Receive professional portraits with this benefit for animals that are perfect for holiday cards!  Pets are welcome, of course, and you may choose to have Santa in a few pictures if you like! 
Special thanks to Lisa Crayford and Brian Leither of Country Gallery Photography for donating their time and talent for this fundraiser each year.  100% of the proceeds benefit the animals at Tri-County Humane Society!
What's Included for only $39:

5 Minute Portrait Session
5 Portraits on a Disc
Full Reproducing/Sharing Rights
Pet Stocking Stuffers for Purchase
Cookies with Santa!
Santa Paws Through the Years
2016 Santa Paws Recap
Our 31st Annual Santa Paws Holiday Portrait Fundraiser in 2016 was a success, raising $7,769 for the animals!
For the first time in Santa Paws history, a blizzard forced us to cancel/reschedule all of our Friday sessions in 2016. A huge thank you to Lisa Crayford and Brian Leither with Country Gallery Photography for expanding their volunteer hours on both Saturday and Sunday to accommodate rescheduling our Friday sessions.  All but 6 sessions from Friday rescheduled, making our weekend incredibly busy with a total of 208 portrait sessions between the two days! 
Thanks to The Camera Shop for donating CDs for the portraits, and to Lisa, Brian and all of our wonderful vounteers, 100% of the proceeds from this event went towards helping animals in need.